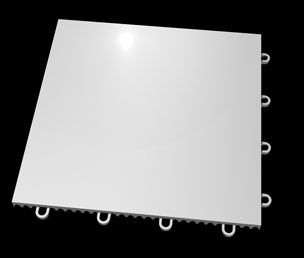 Floor Tile
(12" x 12" x .5" Tile)
This low-cost 12" smooth-top surface is great for events, basement flooring, garages, display areas, or anywhere a portable or permanent flooring system is needed.
Available in five colors

Engineered to handle extreme roll loads.

Commercial-grade quality and craftsmanship.

MADE IN THE USA!
PowerLock™ Technology
This patented positive interlocking system creates the most advanced and durable dance floors in the industry. Installation is a Snap! - No tools, no screws, and no finicky cam locks
Engineered to withstand the unique demands of the special event and hospitality industries
PowerLocks handle extreme loads (up to 25,000 pounds!) and keep panels securely locked together during your events
Multi-patented "Step-N-Snap" design makes SnapLock floors the easiest to install and most reliable portable floors on the market
SnapLock® Superstructure
Functions as one piece, making the system perfect for applications with big temperature swings.
Supports rolling loads of over 50,000 pounds!